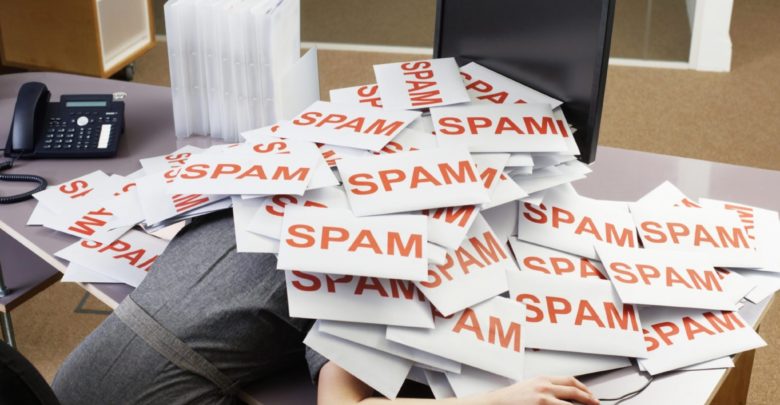 The spread of the Internet gave rise to many new social phenomena that became possible only with this new type of communication. One of these phenomena is spam. Those who send spam pursue different goals, but we can say that all spammers are, to one degree or another, scammers.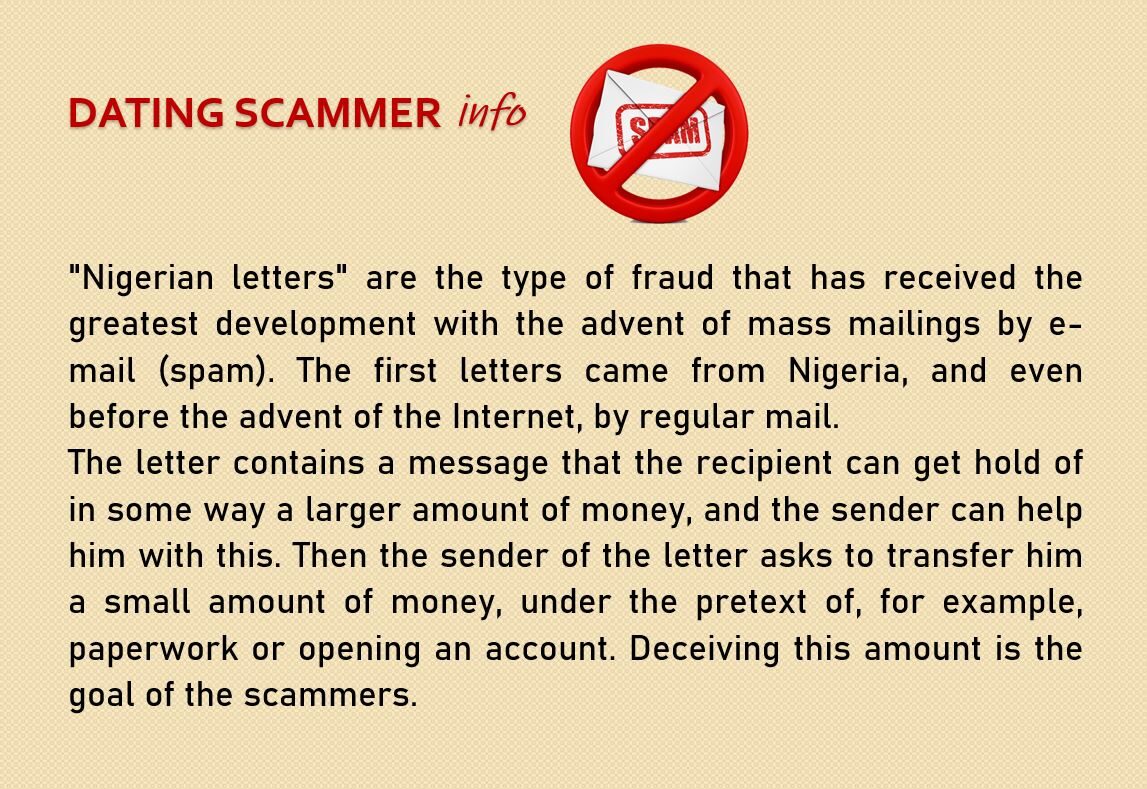 Advance-fee scam. Hello from Nigeria!
With the patience of fishermen watching the floats, young people await day and night for answers to the letters they send to foreigners living on the other side of the globe. Most recipients press Delete, Delete, Delete without even opening messages that urge them to take possession of the unknown wealth of a lost and deceased cousin, or messages promising millions of dollars to help transfer funds looted during the popular riot in Nigeria into an American bank account.
Those who do respond, however, are setting the stage for an attractive and lucrative youth business in Festac, an area in the city of Lagos that is at the center of the cyber-provocateurs universe. The victims of these provocations are here called "maghas", which in translation from the Yoruba language means "fool" – that is, in this case, a gullible white man.
Samuel is 19 years old, handsome, pleased with himself, well dressed, and ambitious. He has a talent for computer science. Until he left the game, he was one of Festak's main spammers. Like almost everyone here, he dreams of leaving the shabby, crowded streets, with dirty houses, dumps of broken refrigerators, and laundry everywhere. Plainclothes policemen are prowling here, extorting bribes, crowds of people are beating and burning people caught stealing a mobile phone, and some locals write on the walls of their houses the words "This house is not for sale" house for auction. Places like the Net Express Internet cafes thrive here.
The cafe has an atmosphere of quiet concentration, the atmosphere is like in a university library before exams. Sometimes, however, someone begins to laugh or in some other way rejoice. The doors are closed from 10:30 p.m. to 7 a.m. and cyber thieves can work in peace without fear of armed intrusion.
At the heart of the 419 scam is the prepaid scam, which offers a "unique chance" to get rich or meet the woman of your dreams. Fraudulent activities can involve fake websites, fake documents, and Nigerians in the United States posing as government officials.
Examples of popular schemes:
"Inheritance" – you are involved in the process of obtaining the suddenly discovered inheritance of a deceased rich relative, in order to receive your share you need to pay "overhead costs".
"Laundering crooked money" – you are promised a large share for help in "legalizing" the criminally acquired money, for this you will be persuaded to open accounts in American banks or provide access to the already opened ones, and sometimes even personally fly to Nigeria.
"Nigerian National Petroleum Co." – on behalf of a Nigerian oil company, you will be promised the supply of large volumes of cheap oil -, you will have overhead costs and money for bribes.
"Overpayment" – sending the victim who sells something of value, a fake bank check that shows a grossly inflated amount, after which the victim is forced to return the difference.
"Job offer you can't refuse"  – The "oil company" offers a very attractive job with a large salary and luxurious conditions, but you have to pay for visas and other documents for employment.
"Lottery Win" – a message about a large lottery win in which the victim has never participated. The theme of the so-called "green cards" of the US State Department is popular.
"Woman in trouble" – someone appears in the chat, posing as an American or Nigerian woman of pleasant appearance, who finds a victim, carries on "intimate correspondence" with her for some time, and then "gets into trouble" and asks to send her money.
In such a work environment, Samuel, he said, collected thousands of American email addresses, sent thousands of fake emails, and waited for responses. He believes that disclosing his name is unsafe for him.
Local scammers prefer to target Americans, who they see as rich and naive. Spammers justify their crime by arguing that the victims are not really victims: they are greedy and deceitful мugu.
For spammers, their network provocations, also called "419" in honor of the corresponding article of the Nigerian criminal code, is a game. They have their own anthem – "I go chop your dollar" – it is very popular in Lagos and has recently been played on the radio by the singer Osuofia:

"419 is just a game, you are the losers, we are the winners.

White people are greedy, I can say they are greedy

White men, I will eat your dollars, will take your money and disappear.

419 is just a game, we are the masters, you are the losers."
"Nobody feels sorry for the victims," ​​says Samuel. According to him, spammers "believe that white people are stupid and greedy. They say the American has a good life. They believe that for every dollar they lose, the American government will pay them one way or another." Victims trust spam because spam promises them an easy escape from the tedious difficulties of everyday life. Spam promises fabulous riches or a woman – a lifelong dream, but first, the magha must send a certain amount of registration fees. Spam with offers to meet and get married usually contains photographs taken from the websites of modeling agencies.
"Is it true you are in the photo? I just can't escape your beauty !!!! I don't believe in my luck !!!!!!!" – wrote one unfortunate American recently to a Nigerian who wanted to earn 1200 dollars. The Nigerian replied, "Can you send me money so that I can buy a ticket?" "Oh, baby. I have no money now. But I will get it. Don't stuff your pretty little head with these thoughts," the American wrote to him.
In particularly sophisticated cases, the fictitious "bride" lives in America and comes to Nigeria on business. "Unfortunately," her money is stolen, and the hotel owner takes her financial hostage until she gets a few hundred dollars to pay off. Then she needs an airline ticket and money to bribe greedy Nigerian customs officials. However, in the end, she ends up in the police and in jail, and now she needs money to bribe the jailers so that they can release her.
The U.S. Secret Service believes that such schemes can raise hundreds of millions of dollars a year around the world, and victims are often afraid or ashamed to report their financial losses.
Basil Udotai of the government's cybercrime team says 419 fraud are only a small fraction of Nigerian computer fraud but are being taken seriously by the authorities because they damage the country's reputation. "The government is not sitting idly by. The international community needs to understand that Nigeria is not being justified for Issue 419. We are taking action to counter all forms of online crime and empowering law enforcement to fight them," he says.
Asishana Okauru, director of financial intelligence for the government's Commission on Economic and Financial Crimes, says that over the two years of its existence, the agency has seized $700 million from section 419 crimes. To date, 12 sentences have been passed in these cases. Okauuru says this is not a bad result for a clumsy law enforcement system, but critics say the courts are very slow and corrupt.
Many representatives of the Nigerian authorities, especially sensitive to Article 419, often state that spammers actually live in other countries, and those Nigerians who have involved in spam do so because of unemployment, well, because the victims are all -so greedy themselves.
When Samuel at the age of 15 came to an Internet cafe and began banging on the keys, he did not suspect that he was being watched by one of Festak's criminal authorities, nicknamed the Shepherd. When the Shepherd appreciated the speed and skill of the teenager, he invited him to his house and asked him to collect addresses for spam mailing through search engines. To make Samuel feel better, he took him to expensive clothing stores. "It's great with him. When he's around, it feels like you don't have any problems," says Samuel. The shepherd lured him in the same way that is used to lure the Magha. "He said that every hour I spend on the Internet, I can make money," Samuel recalls. "He said his houses are earned in the same way. And these are not just houses. They are big, made of marble. there are big TVs and a swimming pool. He lives like a prince. He's the coolest in this city. " The teenager, who does not know the subtleties, was a little taken aback when the Shepherd offered Samuel 20 percent of his earnings. "But I looked at what he had and it stuck in my head. His money, his cars."
To impress his new boss, Samuel worked six hours a day, gathering addresses and mailing them letters that were composed by a college graduate who also worked for Shepherd. He sent out 500 emails a day and usually received about 7 responses. The Shepherd took over the work with them. "The answer is a 70 percent chance of getting paid," Samuel says.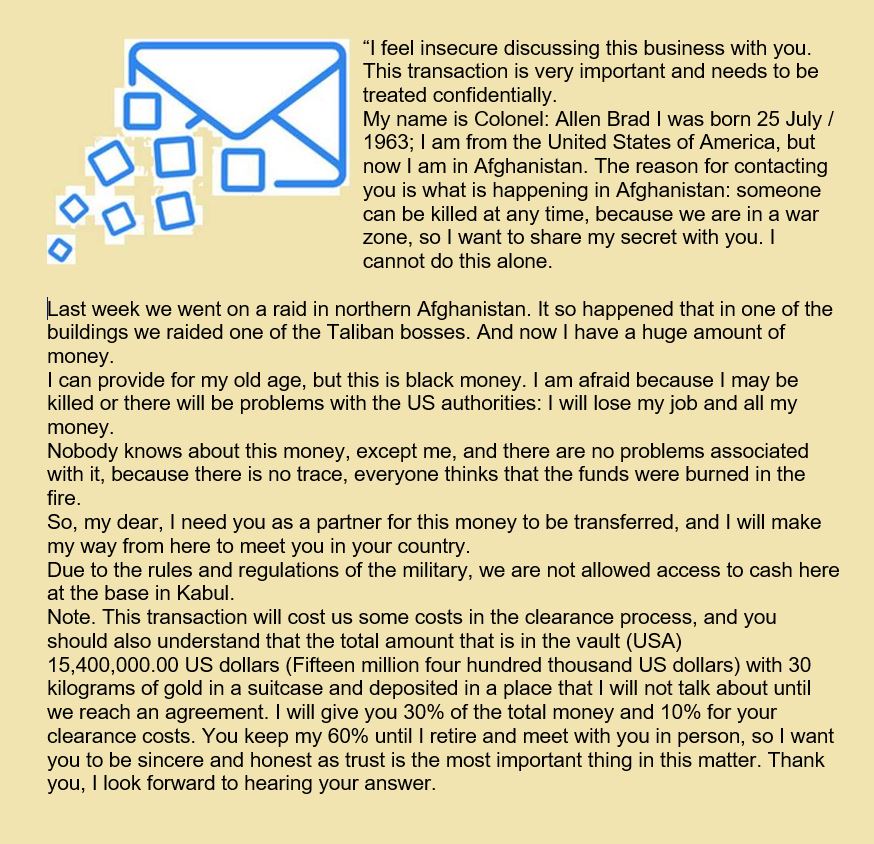 Soon he began working for two bosses – Shepherd and Kolosi, both of whom were well known to the local authorities, but they did not care, because the Nigerian policemen are big fans of spamming themselves.
In most cases, American addresses were sought because the dollar is expensive and because local scammers had connections with Nigerian counterparts in America. "For example, people overseas could pretend to be Nigerian ambassadors or other officials. They could show documents confirming the support of the president or government. And you have to agree with them, as they will somehow let you know that to say no, you are not you can. "
After a letter with the fictitious signature of Nigerian President Olusegun Obasanjo emerged, police searched a market in the Lagos district of Oluwole, one of six locations where documents used in the "419 crimes" originate. Police found thousands of foreign and Nigerian passports, 10,000 British Airways ticket forms, 10,000 American cash checks, customs documents, fake university degrees, 500 stencils, and 500 computers. A stolen American passport costs $2,500 here.
Spam messages often feature fake Internet sites masquerading as sites for lotteries, oil companies, banks, and government agencies. Spammers sometimes use phone numbers with a London code to make victims think they are calling the UK.
Many will immediately recognize fraud, but some still seriously think that they have had the only chance in life. Fraudsters can fool such people for months, extorting additional money from them, allegedly to solve unexpected difficulties. Many victims end up shelling out significant amounts of money to "save the case" when it "suddenly finds itself in danger."
Stephen Kovacsics, a representative of the US Consulate Civil Service in Nigeria, spoke to people who lost 200 thousand dollars. According to him, several times a week Americans wake him up at night asking for help in a difficult situation – for example, they beg to get their "beloved" (they met her in a chat) from a Nigerian prison. Stephen has to inform them that most likely no beloved exists.
According to Kovachiks, a fraudster is able to spend several months chatting with them on behalf of the "beloved" in order to get $700 or a thousand dollars. The new victims do not think about the fact that this is a lot of money for Nigeria, and the scammers are doing several "cases".
The shepherd "processed" 25 to 40 victims a month, Samuel says. Samuel never got the promised 20 percent, but he still made at least $900 a month, three times the average local earnings. Sometimes he managed to earn 6-7 thousand dollars a month.
Мy first meeting with a scammer. How to identify a real scammer when you first met him?
According to Samuel, seven Nigerians in America worked for the Shepherd (one of them lived in the fashionable area of ​​San Francisco), who spied on and intimidated some Magha. When a big deal was thwarted, all seven were summoned to the "conference". "They are all educated and very smart," says Samuel. "Four of them are professional psychologists trained here in Nigeria. If a white man became suspicious, he called them all and asked," Can you finish this case? "They tried to intimidate the victim, convincing her that she was nowhere to go. They promised her arrest and trial in Nigeria. They said they knew where the victim was yesterday and who her friends were. They told the man that he had gone too far and would complete business to the end or will be killed. "
Samuel said that his mother, widowed when he was 16, was in complete despair when she saw him on the street with Shepherd and realized that "he too." "She tried to stop me, but the more effort she put in, the tougher I became. I said: you can't give me what I want, but I want a good life."
But doubts began to creep into Samuel's soul when his friend was arrested for stealing $17,000 from his boss. The friend was severely beaten, and then taken to prison, and he disappeared. Samuel thought about his mother and how she would feel if something happened to him.
When Samuel quit crime last year, he said nothing to his mother. But she noticed. "She said she was happy that she could sleep well now," Samuel says. "And I started crying, I couldn't help myself. I realized that life is more than chasing money."
Now, when Samuel meets the Shepherd on the street, he grins. Sometimes he says: "Never mind, you will come back to me ."
We are sorry that this post was not useful for you!
Let us improve this post!
Tell us how we can improve this post?