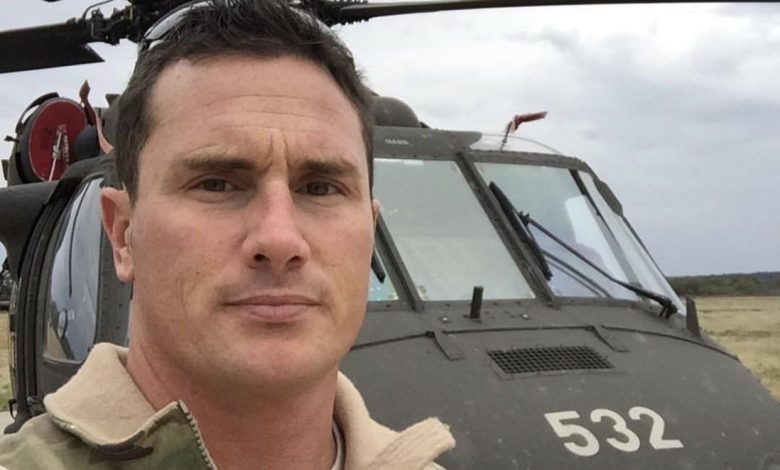 Have you seen this man before? His photographs are particularly popular with African scammers. If you have seen his photos on social networks or on dating sites, be sure that this is a fake account created by a dangerous Internet scammer with the goal of earning money!
Jonathan E. Marsh born February 10, 1976, he is a fitness instructor, volunteer, and small business owner in Oklahoma City.

Jonathan is an infantry soldier and chief warrant officer United States army. BlackHawk helicopter pilot at the 244th assault helicopter battalion in Tulsa. Attended basic training in Fort Benning Georgia. 11 years infantry as enlisted. A graduate of infantry school, special weapon school, airborne school, air assault school, pathfinder school, rappel master school, survival evasion resistance escape school (SERE SCHOOL), and US Army Ranger school.
Instructor – Air Assault School instructor, SERE Instructor.
Served in 1st Calvary division, 95th infantry division, 45th infantry division, 507th airborne Regiment, and 143rd airborne regiment. Combat tours in Iraq. Commissioned as Warrant officer in 2010. US Army flight school in Fort Rucker Alabama in 2010. Served in 108th assault helicopter battalion, 285th assault helicopter Battalion, in the 244th assault helicopter battalion.
Entrepreneur- owner of TIER-ONE Roofing & Construction in Tulsa.

FAMILY
Born in Oklahoma City, Grow up with both parents in Oklahoma city Graduated from Del city high school. Enlisted in the Army in 1999. And his father frendrick marsh is a police officer in Oklahoma, honest caring and loving man, He attended Thomas Jefferson High School in Alexandria, Virginia, for two years and then Jesuit High School California, and graduated with master degree. He attended the United States police academy where he rose to the rank of police captain, He was a basketball player and he decided to follow his brother to West Point where he attended police training. Appointment that brought much public visibility at an early age in life and a brother Luis who is now a retired Command Sergeant Major general.

Jonathan says:
People keep asking me if I'm going to miss flying; of course I'm going to miss it! I will miss everything I've ever done in my military career. I will miss flying! These are just chapters in my life! Now it's time to shift my focus on leading my family and serving my community.

You can see his photo on various social media and dating sites.
Remember Jonathan Marsh face if you see him again!
This gallery features photos of Jonathan Marsh, which were used by African scammers on dating sites!
Remember, the man in the photos, has no relation to fraud, his photo is used by bad people for benefits!
Interview with Jonathan Marsh
Cases of fraud using photographs of this person are also mentioned on other sites.
fake-scam.info    romancescam.com
Tell us about your experience with Jonathan Marsh in the comments or on our SCAM FORUM!
We are sorry that this post was not useful for you!
Let us improve this post!
Tell us how we can improve this post?